Ex-US Navy man jailed for attempted espionage for Russia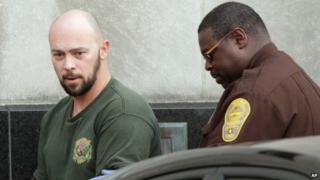 A former US Navy sailor has been sentenced to 30 years in prison for attempted espionage.
A federal court in Norfolk, Virginia, said Robert Hoffman, 40, had passed secret information to people he believed were Russian spies.
They were in fact FBI agents working under cover.
Prosecutors said Hoffman, a former cryptologist technician on US submarines, had given secret files about tracking ships.
"By attempting to hand over some of America's most closely held military secrets, Robert Hoffman put US service members and this country at risk," acting assistant attorney General John Carlin said after the sentencing.
"This prosecution should serve as a warning to others who would compromise our nation's secrets," he added.
Hoffman was arrested in December 2012 and found guilty in August last year.