Washington Redskins: Politicians call for NFL to back new name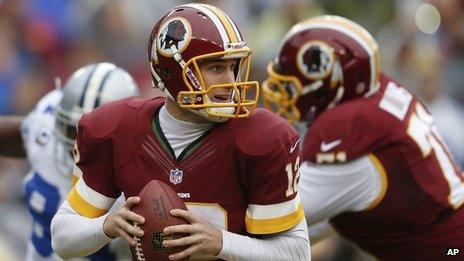 Two members of the US Congress have called on the head of the largest professional American football league to support changing a team name they deem offensive to Native Americans.
Senator Maria Cantwell and Congressman Tom Cole said the Washington Redskins name was a "racial slur".
The National Football League's Roger Goodell has said it is an "honour".
The team in the US capitol has used the name for 80 years, and its owner Dan Snyder says he will keep it.
But a growing number of journalists, civil rights organisations and Native American groups say the term is racist and offensive and should be changed.
Last year, President Barack Obama, an American football fan, urged the team to consider changing it.
In a letter dated Monday and obtained by the New York Times, Ms Cantwell, a Washington Democrat, and Mr Cole, an Oklahoma Republican, told Mr Goodell, "The terminology used by the Washington football team has been determined to be a slur."
"It is, in fact, an insult to Native Americans," they added. "We are calling on you and the National Football League to take a formal position in support of a name change."
Ms Cantwell is the chairwoman of the Senate Indian affairs committee, and Mr Cole, a member of the Chickasaw Nation, is one of only two Native American members of Congress.
Mr Snyder has refused to change his team's name, dismissing growing complaints it is offensive.
Mr Goodell has said he supports keeping the name, saying last month it "honoured" Native Americans. He also cited polling he said suggested the public opposed a name change.
But Ms Cantwell and Mr Cole said defending the name based on public opinion polling "flies in the face of our constitutionally protected government-to-government relationship with tribes".
"The National Football League is on the wrong side of history," they wrote.
Redskins spokesman Tony Wyllie defended the team name and questioned the politicians' attention to the matter.
"With all the important issues Congress has to deal with, such as a war in Afghanistan to deficits to health care, don't they have more important issues to worry about than a football team's name?" he told the Reuters news agency.