New York police 'seize 3,000 birds' in cockfighting raids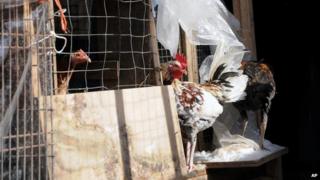 Police in New York seized about 3,000 birds during their biggest ever operation against illegal cockfighting.
Investigators broke up a late-night cockfight in the basement of a shop as part of the crackdown, officials say.
Cockerels with metal spurs attached to their legs were found stuffed into sacks, according to police.
At least 70 people were taken into custody and nine were arrested on felony charges.
New York's attorney general, Eric Schneiderman, said the investigation highlighted the prevalence of cockfighting and its links to other criminal activities.
"Cockfighting is a cruel, abusive and barbaric practice that tortures animals, endangers the health and safety of the public and is known to facilitate other crimes," he said.
Injected with drugs
The raids, named Operation Angry Birds, targeted locations in Queens, Brooklyn and Ulster County, Mr Schneiderman said. The operation was the largest of its kind in New York state's history, he added.
In Queens, police broke up a cockfighting event in the basement of a shop. They said fights were held there twice a month, with cockerels injected with performance-enhancing drugs.
Spectators were charged for admission and seating, and alcohol was sold illegally.
They placed bets of up to $10,000 (£6,100) on the fights, police said.
Meanwhile, up to 50 fighting birds were seized from the basement of a pet shop in Brooklyn. Police said they also found equipment such as artificial spurs and syringes.
The pet shop owner was charged with animal fighting, prosecutors said.
The authorities, supported by the American Society for the Prevention of Cruelty to Animals (ASPCA), also raided a farm near the town of Plattekill, Ulster County, where birds were reportedly bred and trained to fight. Police seized as many as 3,000 birds and arrested two farm workers.
The ASPCA set up a temporary shelter to house and care for the seized birds.
"No animal should be forced to fight to the death, and we're proud to play a leading role in removing and caring for these victimized birds, as well as offering expert legal assistance in this case," ASPCA president Matthew Bershadker said in a statement.
In New York, cockfighting and possession of a fighting bird at a cockfighting location both carry a maximum penalty of four years in jail and a fine of up to $25,000, according to the attorney general's office.