Half-million still without power after US ice storm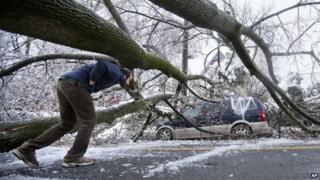 Nearly half a million people remain without electricity, a day after the second storm in a week struck parts of the winter-weary US east coast.
A power cut affected more than 450,000 people in the Philadelphia area and 70,000 more in the state of Maryland, electric companies said on Thursday.
Fallen tree limbs sheathed in a thick coat of ice slowed recovery efforts.
"This damage is very similar to what we see during hurricanes," a Pennsylvania state official said.
"The damage that we are seeing in the field with the number of trees down, not only on lines but blocking roads and more, presents a number of logistical issues," said the official, Public Utility Commission spokeswoman Jennifer Kocher.
Peco, the Philadelphia region's main utility company, said repair efforts would extend through the weekend, although many would see their power restored by Friday. It was the firm's second-worst power cut after Super Storm Sandy, in October 2012.
The first month of 2014 has already seen several winter storms with heavy snowfall in the region.
Wednesday's storm dumped more than a foot (30.48cm) of snow, forcing schools, companies and government offices to close and snarling the densely populated region's transport network, and left more than a quarter-inch of ice coating a large section of the state of Pennsylvania.
Pennsylvania Governor Tom Corbett issued a disaster emergency proclamation in order to free up state resources, and pleaded with shivering, exasperated citizens for patience.
President Barack Obama also signed an emergency declaration, allowing federal disaster assistance to flow to the region.
Officials also asked residents not to use petrol generators or cooking grills indoors to heat their homes after at least 20 people in the Philadelphia area were taken to hospital with carbon monoxide poisoning.
Several hospitals were running back-up generators with their electricity still cut. Most decided to cancel elective surgeries and other non-emergency procedures.