Stolen Stradivarius violin believed to be recovered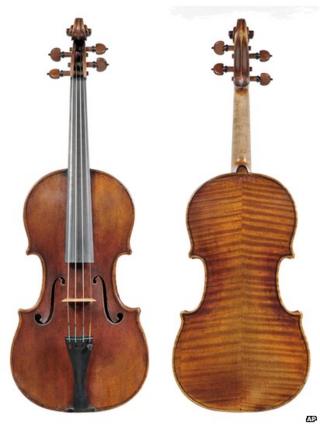 Authorities in the US state of Wisconsin say they think they have recovered a rare Stradivarius violin valued at $5m (£3m) stolen last month.
Police are working to confirm the instrument is indeed the three-century-old violin taken from a symphony concertmaster to whom it had been lent.
Two men ages 41 and 36 and a 32-year-old woman have been arrested in connection with the theft.
A $100,000 reward had been offered for the instrument's safe return.
A local broadcaster reported a violin believed to be the rare Stradivarius was found in the east side of Milwaukee, Wisconsin.
Police will contact experts to confirm it is the stolen violin, Milwaukee Police Lt Jeffrey Norman told the Associated Press news agency.
"It has to be confirmed as to the actual authenticity of what it is," he said.
Police say a robber used a stun gun on Milwaukee Symphony Orchestra concertmaster Frank Almond in a car park after a performance, then fled with the violin.
Mr Almond was knocked to the ground but was not seriously hurt.
The case in which he kept the instrument was later found.
One of the suspects arrested on Wednesday had been linked to a prior art theft, the Milwaukee Journal-Sentinel reported.
The instrument, now known as the Lipinski Strad, was built in 1715 by master Antonio Stradivari, widely considered the greatest violin maker in history.
The Lipinski Strad was formerly owned by Polish violinist Karol Lipinski and 18th Century virtuoso Giuseppe Tartini.
The violin's current owner, who has requested anonymity, said her "heart is broken" following the theft.
"[I am] just a person who loved her family violin with all its memories and three hundred years of history more than the many opportunities to sell it," she told the Milwaukee Journal Sentinel.