'Four arrested' after Philip Seymour Hoffman death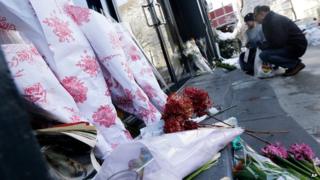 Police in New York have arrested four people on drugs charges days after actor Philip Seymour Hoffman died from a suspected heroin overdose.
Some 350 bags of heroin were seized during the arrests in Lower Manhattan, unnamed police officials were quoted by US media as saying.
Police say they have not yet linked the arrests to Hoffman's death.
The Oscar-winning star, 46, was found dead at his Greenwich Village home on Sunday with a syringe in his arm.
Dozens of suspected heroin bags were found near his body.
Some were stamped with the ace of hearts and the ace of spades, which are said to be brand names for heroin that street dealers use.
No definitive cause of death has been given, as police try to piece together his final hours using surveillance video and inspecting computers found in his home.
Police say the heroin found in Hoffman's apartment was not mixed with the synthetic narcotic fentanyl.
Fentanyl has been blamed for a number of recent overdose deaths.
He is reported to have withdrawn a total of $1,200 (£735) in six visits to a cash machine the day before his death.
Philip Seymour Hoffman
1 best actor Oscar for Capote, 2005

3 supporting actor Oscar nominations

51 feature film releases, 1991-2014

29 dramas, 21 comedies, 1 animation

4 real life characters played: Lester Bangs, Truman Capote, Art Howe, Gust Avrakatos
AP
The acting world has been paying tribute to a man described as one of the finest actors of his generation.
Lights along theatre marquees on New York's Broadway are due to be dimmed later in honour of Hoffman, who earned three Tony award nominations for his work in theatre work in the city.
Hoffman, who is survived by his partner Mimi O'Donnell and their three children, has spoken candidly in the past of his struggle against drug addiction.
In a 2006 interview with CBS he said he had at times abused "anything I could get my hands on. I liked it all".
He admitted in May 2013 he had entered rehab a year earlier, spending 10 days in treatment.
The actor's family say they are planning a private funeral service "for the family and close friends" followed by a memorial service, but have given no dates.