US Army rocked by Iraq war recruitment fraud scheme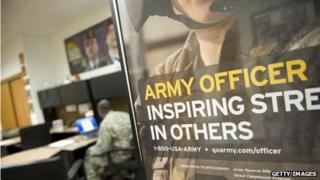 More than 1,200 people are under investigation for a US military recruitment fraud during the Iraq war, officials say.
Two generals and dozens of colonels are implicated in the alleged scheme, in which referral fees were illegally collected for recruiting soldiers.
The fraud is said to have already cost the US government at least $29m (£17.7m) and may top $100m in total.
Details were revealed by two Army generals at a US Senate hearing.
The National Guard programme - established in 2005 and later expanded to the Army and Army Reserve - paid soldiers, civilians and retirees $2,000 to $7,500 to recruit friends and family, according to congressional documents.
'Depressing'
According to investigators, numerous schemes were used to defraud under the programme, which saw the Army pay out more than $300m for 130,000 recruits during the Iraq war.
High school principals and guidance counsellors were said to have accepted money for recruiting students who they knew were already planning to join the US military.
Other recruiters illegally accepted bonuses after forcing subordinates to register as recruiting assistants, before substituting their own bank account information.
More than 700 recruiters and 200 military officers are under investigation, and several former recruiters and soldiers have been indicted on federal charges.
Officials estimate the investigation may extend until 2016 due to the sheer scope of the endeavour.
"Clearly, we're talking about one of the largest criminal investigations in the history of the Army," financial oversight subcommittee chair Senator Claire McCaskill told USA Today.
"This is discouraging and depressing," she added. "[It] is just a mess from top to bottom."