Secretary of State John Kerry aims for the history books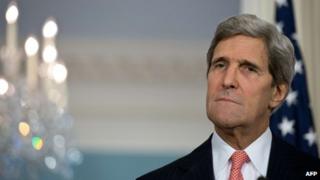 During his first year as US secretary of state, veteran former Senator John Kerry had to become accustomed to playing a subsidiary role on President Barack Obama's team. Now, he is trying to silence his many critics and gain a foothold on some of the most intractable conflicts in the world.
John Kerry arrived at the state department on a Monday morning exactly a year ago, full of enthusiasm and humour, ready for a job he had coveted for some time.
Standing on the steps overlooking the lobby of the building, he greeted his new staff - hundreds of foreign service officers and civil servants, just like his predecessors - Hillary Clinton and Condoleezza Rice had done.
"Here's the big question," he jokingly asked. "Can a man actually run the state department? As the saying goes, I have big heels to fill."
Mr Kerry's aides were keen to emphasise early on how he would be different from Mrs Clinton - he would take more risks and would spend more time in Washington.
They were wrong about the travelling. Mr Kerry has turned out to be an indefatigable traveller and has already logged 320,961 miles (516,536km), compared to Mrs Clinton, who flew 206,799 during her first year.
But Mr Kerry's aides were not mistaken about his willingness to put everything on the line.
Man on mission
Whereas Mrs Clinton took mostly very calculated risks, Mr Kerry is a man on a mission, forging boldly ahead, trying to unpick intractable conflicts during what is likely the last act of a long political career.
From Iran to Syria and the Middle East peace process, Mr Kerry is busy trying to get into the history books with great courage, according to his supporters, or too much eagerness to cut any kind of deal, according to his critics.
"In terms of his style I think it is very active personal diplomacy to try to solve problems, to try to unlock conflicts that had been frozen and try to make progress working with the president in places where American leadership is needed more than ever," said Mr Kerry's chief of staff, David Wade, in a recent interview with the BBC.
Mr Wade, who's been with Mr Kerry for over 15 years - from the presidential campaign in 2004 to the Senate - said "what runs through it all is that he's really the same… Somebody who is at heart an activist, who's driven to try and use the time he has to effect positive change."
Mr Kerry came to the job with no previous experience in the executive branch.
William Cohen, a senator for almost 30 years who became secretary of defense in the Clinton administration, said it takes some adjustment to switch from being a long-time senator free to speak your mind, to becoming a member of the cabinet whose every word is parsed.
Mr Cohen said in his first few months in the job he also caught himself a few times telling the president: "You have to do that," only to be reminded that he was no longer a senator urging executive action but part of the executive branch himself.
Elliot Abrams, a former deputy National Security Advisor during the Bush administration, said Mr Kerry was still operating too much like a one-man band.
"You run the danger that you look behind you and you realise there isn't anybody there. People have said to me he was going into meetings with foreign ministers and heads of state alone - without even a note taker," said Mr Abrams.
"How do you do a follow-up if there isn't someone there who says the secretary agreed to do four things and the other guy agreed to do seven things. He has to realise he's a bureaucrat, a really high-ranking bureaucrat, but a bureaucrat".
Crisis du jour
Mr Abrams pointed to the hiring of former ambassador Martin Indyk last summer to lead the negotiations on the Middle East peace process as one area where Mr Kerry had realised he couldn't do it all on his own.
Mr Kerry has applied himself to the big crisis du jour, with some success and some luck. His off-the-cuff speaking style can be frustrating for his aides but is passionate and refreshing and came in handy in September. President Barack Obama was ready to strike Syria when Mr Kerry was asked at a press conference in London if there was anything Syrian President Bashar al-Assad could do to avoid war.
"He could turn over every single bit of his chemical weapons to the international community in the next week. Turn it over - all of it. Without delay. And allow a full and total accounting for that," said Mr Kerry. "But he isn't about to do it and it can't be done obviously."
But Moscow seized on Mr Kerry's inadvertent diplomatic initiative and gave the White House a fortuitous way out of a war that President Obama never wanted. Mr Kerry, having spent days defending a military strike, rallied around the new diplomatic initiative with the same aplomb.
He then revived the faltering Geneva peace initiative on Syria, pushing for talks between the opposition and the Syrian government, which took place last month. The negotiations ended with no result for now and the removal of Syria's chemical weapons is being slow-rolled.
The Daily Beast reported that Mr Kerry privately told members of Congress over the weekend that the administration's policy on Syria was failing. His aides disputed the account.
In November, Mr Kerry received accolades for successfully overseeing negotiations that led to an interim nuclear deal with Iran, sealed in Geneva. While Mr Kerry is given the latitude to go all-out on his own on Middle East peace, the Iran talks are carefully managed by the White House.
'Obsessive and messianic'
Mr Kerry has travelled to Asia, Africa and Latin America, but his focus is the Middle East, where the high-risk and high-yield opportunities are.
He travelled to the region repeatedly during his first months in the job, to get Israelis and Palestinians back to the negotiating table.
Mr Kerry then appointed Mr Indyk but continued his own relentless diplomacy leading to an outburst by the Israeli minister of defence, Moshe Yaalon, who reportedly described Mr Kerry as obsessive and messianic in his quest for Mideast peace.
One reason why Mr Kerry has been pursuing what many see as a losing proposition, said Mr Abrams, "could be that he doesn't want a blow up on the Israeli-Palestinian front".
"Another element of it is that he just wants something to do that is his and the department's. A third element may be ego - that is, the sense that what has been missing and that explains the failures in the past is 'me' - John Kerry."
The two sides agreed to negotiate for nine months - that clock runs out in April with no tangible progress for now. There is no mention of a final status agreement anymore, only a framework agreement, but no-one is talking of failure.
"Secretary Kerry has always believed that in politics, in life or in foreign policy, that if you entertain Plan B before you've even begun Plan A, it's usually guaranteed you're going to end up with Plan C or Plan D. So he's not going down that road," Mr Wade said recently.
Mr Kerry can be alarmingly optimistic, convinced of his own powers of persuasion. But if he gets the work done, and decisively seals even one deal, his critics will be silenced.