Multiple murderer who escaped Michigan prison captured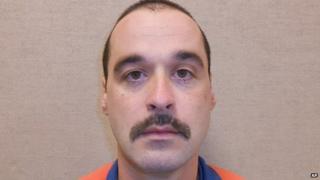 A multiple murderer who escaped from a Michigan prison has been captured after a manhunt that ended in a car chase, authorities say.
Michael David Elliot, 40, who apparently tore holes in two prison fences with his bare hands to make his escape, was captured in Indiana.
While fleeing, he allegedly carjacked a woman who escaped as Elliot stopped the car at a petrol station.
He was sentenced in 1994 to life in prison for four murders.
Elliot was reported missing from Ionia Correctional Facility at 21:30 local time (02:30 GMT on Monday).
'Lock the doors'
Fences at the Michigan prison are equipped with electronic safeguards, authorities said, but they failed to stop the convict's escape.
"He was not zapped with electricity, and he was not picked up by the motion sensors," prisons spokesman Russ Marlan said.
The LaGrange County Sheriff's office said the woman whom Elliot allegedly carjacked called police from a concealed mobile phone while the fugitive filled up the petrol tank.
A dispatcher told the woman, who was unharmed, to run into the station toilet, lock the doors and remain inside until police arrived.
Elliot, who had a record of good behaviour during his 20 years in custody, had fled by the time officers arrived, and the woman's red Jeep was later found abandoned.
The woman told authorities Elliot had been armed with a hammer and box cutter.
An Indiana sheriff's deputy later gave chase to a vehicle that had been reported stolen. Police disabled the vehicle and Elliott was captured.
He was already facing life without parole for fatally shooting four people and burning down their home in 1993.
According to court records, he and accomplices were trying to steal money from a drug dealer at the time.