Murderer serving life sentence escapes Michigan prison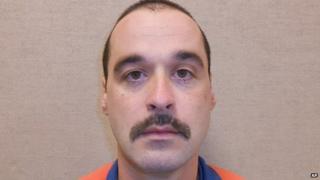 Authorities in the US state of Michigan have launched a manhunt for a convicted multiple murderer who escaped from prison on Sunday.
Michael David Elliot, 40, was noted missing at 21:30 local time (02:30 GMT on Monday).
Sentenced in 1994 to life for four murders, he dug holes under two prison fences to make his escape, police said.
He was last seen at a petrol station, where a woman he abducted and ordered to drive him escaped, police said.
Elliot was said to be wearing a white kitchen uniform during his escape from Ionia Correctional Facility.
He allegedly abducted a woman outside the prison who later escaped when the convict stopped for petrol.
The LaGrange County Sheriff's office said the woman called authorities from a concealed mobile phone while Elliot filled up the petrol tank.
A dispatcher told the woman, who was unharmed, to run into the station toilet, lock the doors and remain inside until police arrived.
Elliot had fled by the time officers arrived.
The woman's red Jeep was later found abandoned.
Several law enforcement agencies including the Michigan State Police are involved in the search.
All other inmates at Ionia prison have been accounted for, Michigan corrections department spokesman Russ Marlan told the Associated Press news agency.