Woody Allen calls renewed sex abuse claim 'disgraceful'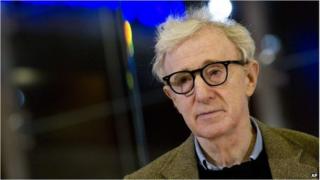 Woody Allen has called renewed claims by his adopted daughter that he sexually abused her as a child "untrue and disgraceful", his publicist says.
In an open letter published on Saturday, Dylan Farrow accused Mr Allen of molesting her in a "dim, closet-like attic" at the age of seven.
Mr Allen was investigated over the abuse allegations at the time of the incident, but was not charged.
Publicist Leslee Dart said Mr Allen would respond directly "very soon".
Ms Dart pointed out that "a thorough investigation was conducted by court-appointed independent experts" when the allegations were first made.
"The experts concluded there was no credible evidence of molestation; that Dylan Farrow had an inability to distinguish between fantasy and reality; and that Dylan Farrow had likely been coached by her mother Mia Farrow," Ms Dart continued.
Mr Allen has previously accused Dylan's mother, Mia Farrow, of fabricating the claims after their highly publicised break-up in 1992 and has always maintained his innocence.
At the time a panel of psychologists, appointed by US prosecutors and the police, concluded that Dylan had not been molested.
However the case caused controversy when a prosecutor later said there had been "probable cause" to charge Mr Allen, but he had chosen not to, in order to protect the child.
'Turning a blind eye'
In the letter from Dylan Farrow, published on the New York Times website, she recounts an incident in which she says Mr Allen "told me to lay on my stomach and play with my brother's electric train set. Then he sexually abused me".
Ms Farrow, now 28 and living in Florida under a different name, said she developed an eating disorder and was self-harming following the abuse.
"That he got away with what he did to me haunted me as I grew up," she writes.
Of the panel who dismissed her claims back in 1992, Ms Farrow says: "Sexual abuse claims against the powerful stall more easily. There were experts willing to attack my credibility."
She said she decided to break her silence after two decades, when Woody Allen's latest film, Blue Jasmine, was nominated for an Oscar last week.
Ms Farrow explained that Hollywood had made her "torment worse" by turning "a blind eye" to her story and took aim against actors who have appeared in Mr Allen's movies.
"What if it had been your child, Cate Blanchett? You knew me when I was a little girl, Diane Keaton. Have you forgotten me?"
Ms Farrow's letter has sent ripples through Hollywood.
Blue Jasmine star Cate Blanchett responded to the piece saying: "It's obviously been a long and painful situation for the family and I hope they find some resolution and peace."
Actress Mia Farrow became romantically involved with Woody Allen in the early 1980s. The pair, who never married and kept separate homes, jointly adopted Dylan and her brother, Moses.
The couple split in 1992 amid revelations that Mr Allen had an affair with Soon-Yi Previn, Mia Farrow's adopted daughter with pianist Andre Previn.
Mr Allen wed Ms Previn, and the two remain married.
The molestation allegations surfaced shortly after the breakup.
At the time, Woody Allen released a public statement, calling the claims "an unconscionable and gruesomely damaging manipulation of innocent children for vindictive and self-serving motives".