Conrad Black stripped of Order of Canada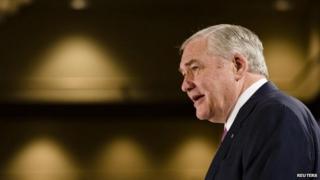 Canada has stripped former media baron, Conrad Black, of the Order of Canada, its highest honour.
Lord Black was also removed from the Queen's Privy Council for Canada.
He served three years in prison in the US for fraud and obstruction of justice, and was released in 2012.
Lord Black of Crossharbour remains a member of the UK House of Lords. He was awarded the Order of Canada, which recognises a lifetime of achievement, in 1990.
In a statement on Friday, the Canadian government said it had accepted a recommendation by the Advisory Council for the Order of Canada to remove Lord Black as an officer of the order.
The Queen's Privy Council is a board of prominent Canadians appointed to advise the head of state, the Queen, although for non-ministers it is normally only honorary.
Lord Black, who was born in Montreal and now lives in Toronto, hosts a Canadian television show.
He once controlled Hollinger International, which published the Daily Telegraph and the Chicago Sun-Times.
In 2007 he was found guilty in the US of conspiring with other executives to siphon off millions of dollars from the sale of newspapers as they unwound Hollinger.
Some of those convictions were later overturned, and his sentence shortened to 42 months.
Lord Black, who renounced Canadian citizenship when becoming a British peer in 2001, moved back to Canada following his release from a Florida prison in May 2012.