Ex-New York mayor Bloomberg named UN climate envoy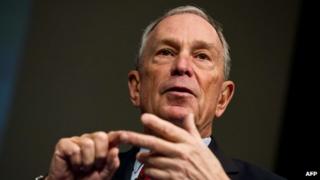 Former New York mayor Michael Bloomberg has been appointed as UN special envoy for cities and climate change.
UN Secretary General Ban Ki-moon wants Mr Bloomberg to "raise political will and mobilise action" on climate change, a UN spokesman said.
He will also work to bring "concrete solutions" to a major climate summit in New York in September.
As New York City mayor, Mr Bloomberg accused US politicians of a failure of leadership on climate change.
He later hinted at a link between Hurricane Sandy and global warming.
Samantha Power, US ambassador to the UN, welcomed Mr Bloomberg's appointment, posting on Twitter: "Mayor @MikeBloomberg knows how to get things done. We need more leaders like him here @UN."
Mr Bloomberg, a former news tycoon, made combating climate change a major focus of his 12 years as mayor of New York City.
The UN will host a one-day climate change summit in New York on 23 September 2014.