Obama softens stance on special pathway to citizenship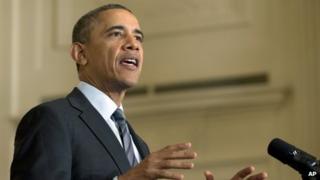 President Obama has suggested he would be open to an immigration overhaul that would not provide a special path to citizenship for most illegal migrants.
But he said he favours legislation that includes such a measure.
Cross-party talks on reform appear set to resume, after House Republican leaders on Thursday backed legal status, if not citizenship, for undocumented migrants.
He said he was "not sure" how far apart he and Republicans were on the issue.
More than 11 million people are believed to reside in the US without proper documentation.
Won't 'prejudge'
Mr Obama's remarks were broadcast a day after Republican leaders in the House of Representatives released a broad document described as a statement of their negotiating principles on immigration. But they have yet to file legislation filling out the details.
In an interview with CNN broadcast on Friday, Mr Obama said he did not want to "prejudge" potential legislation, though he reiterated his preference for a cross-party bill passed last year in the Senate that would create a path to citizenship for many people who came to the US illegally.
But he suggested he would be open to a bill that articulated some of the policy principles described in a statement released on Thursday by the Republican House leadership.
He said he was "encouraged" by what he had heard from House Speaker John Boehner, the top Republican officeholder.
"If the speaker proposes something that says right away folks aren't being deported, families aren't being separated, we're able to track top young students to provide the skills or start businesses here and then there's a regular process of citizenship, I'm not sure how wide the divide ends up being," he said. "That's why I don't want to prejudge it."
The Republican leaders in the House of Representatives on Thursday proposed allowing illegal immigrants who had come to the US as children to earn citizenship after graduating from university or serving in the military, enabling others to earn legal status - but not citizenship - after paying fines and back taxes, increasing the number of visas for workers in high-skill fields, and other measures.
The document was greeted sceptically by conservative Republicans in the House rank-and-file and the Senate and by Democrats and liberals who demand an easier path to citizenship for undocumented immigrants.
The proposal was a shift for the party, which had previously opposed concessions to illegal immigrants.
Analysts say it represents an effort by the party to win support from Hispanic voters, a fast-growing voting bloc that in recent years has overwhelmingly backed the Democrats.