Ohio man Bill Standley buried astride Harley-Davidson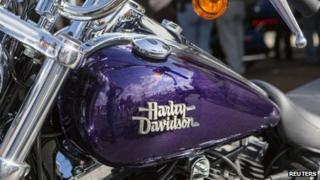 An avid motorcycle rider in the US state of Ohio has been buried with his Harley-Davidson in a transparent casket.
Billy Standley was embalmed and laid to rest atop a 1977 Electra Glide cruiser in a Plexiglass casket.
An extra-large cemetery plot was required to fulfil his final wishes.
Standley's family described the deceased, 82, as a "quirky" man who had been planning the unusual send-off for years.
The father-of-four succumbed to lung cancer on 26 January and was laid to rest on Friday.
Five embalmers prepared the body - wearing black leathers and a helmet, and equipped with a metal back brace and straps - to ensure Standley stays astride his motorcycle after burial.
His two sons constructed the large see-through casket prior to his death, which he reportedly proudly displayed for visitors.
"He'd done right by us all these years, and at least we could see he goes out the way he wanted to," Standley's son, Pete, told the Dayton Daily News.