Outrage after student lunches thrown out at Utah school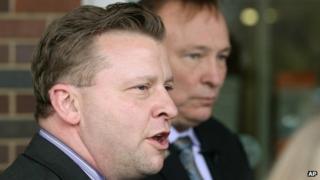 School officials in the US state of Utah have apologised after an employee confiscated and discarded the lunches of about 30 children whose parents were said to be in arrears on meal payments.
Outraged parents in Salt Lake City said the students at Uintah Elementary primary school had been humiliated.
The school system has launched an inquiry into the Tuesday incident, blamed on a sole "nutrition manager".
The children whose meals were put in the rubbish were given fruit and milk.
"This was a mistake. This was handled wrong,'' Jason Olsen, a spokesman for the Salt Lake City school system said on Thursday.
According to Salt Lake City school officials, on Monday a nutrition manager arrived at Uintah Elementary to investigate what it described as a high number of negative balances on the accounts students use to pay for lunches prepared and served by the school.
The nutrition manager and another school employee began calling parents with negative balances in an effort to recoup payment, the school system said.
Then, on Tuesday, students who had queued up and were served lunch only to arrive at the tills and show negative balances were told to give back the lunches.
'Bullying'
The lunches were thrown in the rubbish, because once food is served it cannot be given to another student, the school officials said.
"People are upset, obviously, by the way this has been handled because it's really needless and quite mean," said parent Erica Lukes, whose 11-year-old daughter reported that her pizza had been taken away.
And some parents reported their accounts were not, in fact, in arrears, and the official had made a mistake.
Mr Olsen told the Salt Lake City Tribune the district believed the nutrition manager made the decision to throw out the lunches but an investigation was ongoing.
On Thursday, two Utah state senators vowed to address the school policies if the school officials failed to.
"I get that the school needs to be paid," said Senator Todd Weiler. "But this was bullying."
Schools in other states have taken similar actions. In the last year, students in Massachusetts, Indiana, Maine and Kentucky had lunches taken from them and discarded.