Israeli fizzy drinks at centre of settlement boycott row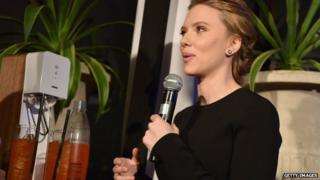 There was a time in the hard-up Britain of the 1980s when you bought a SodaStream for making your own fizzy drinks for the same reason you bought electric clippers for cutting your own hair - because it was cheap.
Things are very different these days.
The company - now under Israeli ownership - likes to emphasise its green credentials, trading on the idea that making your own cola at home in a re-usable bottle saves plastic bottles and therefore, ultimately, saves the planet.
The SodaStream has always exhibited a Dr Who-style capacity for self-reinvention - it started out as a machine for producing fresh soda water in the homes of the wealthy and well-connected in Edwardian England.
Now it is at the cutting edge of marketing, with a new global brand ambassador in the shape of the Hollywood star, Scarlet Johansson, and a new commercial ready to roll out for the US market in a $4m (£2.4m) slot during the Super Bowl this weekend.
But suddenly SodaStream - and Ms Johansson - find themselves caught up in the bitter politics of the Middle East, and in particular the calls for a boycott of Israeli businesses that trade on the lands that Israel captured in the war of 1967.
The fizzy drinks machine-maker has a factory in the industrial zone of Maale Adumim - a Jewish settlement built on occupied land to the east of Jerusalem.
Under most interpretations of international law - although not Israel's - building homes and businesses on such territory is illegal.
Many campaign groups want a ban on goods produced under those circumstances - or at least clear labelling so that consumers in other countries know they are buying things made or grown on Israeli settlements and not in Israel itself.
So far, so familiar, except that Ms Johansson was a brand ambassador for the charity Oxfam (which regards the settlements as illegal and opposes any trade from them) as well as for SodaStream (which has a factory in a settlement). Something had to give.
'Reputational damage'
In the end, the actress decided to cut her links with Oxfam and stick with SodaStream.
In a written statement, she said: "I remain a supporter of economic co-operation and social interaction between a democratic Israel and Palestine.
"SodaStream is a company that is not only committed to the environment but to building a bridge to peace between Israel and Palestine, supporting neighbours working alongside each other, receiving equal pay, equal benefits and equal rights."
Her decision is a blow to the boycott movement - if she had stood down on the eve of the Super Bowl and forced SodaStream to pull a high-profile $4m advertising slot, it would have generated global headlines.
As things stand, the Palestine Solidarity Campaign is arguing that the actress has undermined the image she built up as a representative for Oxfam.
The campaign's director, Sarah Colborne, said: "Scarlett Johansson's decision to represent SodaStream clearly violated Oxfam's policy of supporting human rights and justice.
"By choosing to represent a company that operates in an illegal settlement on stolen Palestinian land, she has already suffered major reputational damage. And by prioritising SodaStream over Oxfam, she has decided to profit from occupation, rather than challenge global poverty."
'Livelihoods under threat'
At the heart of the dispute is SodaStream's boss in Israel, Daniel Birnbaum, who says the company's decision to take over an old munitions factory on a settlement was taken long before he worked for it.
He is a supporter of the two-state solution, which would create an independent Palestine to stand beside Israel between the River Jordan and the Mediterranean Sea, and says that if the West Bank were to end up in a future Palestinian State he would keep the factory there and pay taxes to the new government.
In the meantime, he says SodaStream gives jobs to hundreds of Palestinians who enjoy the same pay and benefits as the Jewish settlers who work alongside them.
If the boycott movement gets its way, he argues, and no-one buys things made in the settlements, the factory will close and they will all lose their jobs at a time when finding work on the West Bank is almost impossible.
"We are giving livelihood to 500 Palestinians who feed 5,000 people and who will have no other jobs," he told me. "Throwing them into unemployment is not what's going to bring peace to this area, that's for sure."
Mr Birnbaum was always confident that Ms Johansson would not wobble under the frenzy of activity her link with SodaStream stirred on the internet - he describes her as a "superhero" in real-life, as well as in the movies.
And he insists this is about a simple moral question - is it better to deliver real benefits to a large group of Palestinians now rather than pursuing a political strategy designed to benefit all them at some point in the future?
He portrays the factory as an example of peaceful co-existence and adds: "As an individual I am not waiting anymore for politicians to make peace. I have been waiting for 45 years and look where we are today.
"What we have decided at SodaStream is to start making peace on our own, and let the politicians do what they do when they get around to it."
The boycott movement is important.
Supporters of the Palestinians have hit on a tactic that might encourage ordinary consumers to start differentiating products from the factories and farms of Israel on the one hand and Israeli settlements on the other.
Israel is worried - especially at the prospect of the movement gathering pace if peace talks with the Palestinians collapse.
The involvement of Scarlett Johansson gives the whole vexed issue a touch of Hollywood - and when that Super Bowl ad finally airs, it will bring the issues before one of the world's largest audiences.