Cantaloupe farmers sentenced in listeriosis outbreak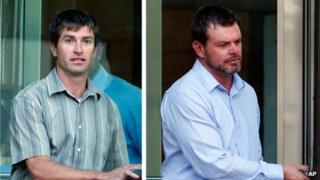 The owners of a Colorado cantaloupe farm linked to a 2011 food poisoning outbreak which killed 33 people and sickened 147 have been sentenced to six months of home detention.
Brothers Eric, 37, and Ryan, 33, Jensen received five years' probation and were each ordered to pay $150,000 (£90,467).
In October, they pleaded guilty to six counts of adulteration of a food.
Inadequately washed melons caused an outbreak of listeriosis which stretched from California to Virginia.
'Look of terror'
The Jensens had faced up to six years in prison and $1.5m in fines in connection with the 2011 outbreak.
Relatives of the victims spoke in court prior to sentencing on Tuesday, describing the ailments their loved ones suffered.
"The look of terror on his face still gives me nightmares," Patricia Hauser said of her husband Michael, who died what she described as an agonising death.
Judge Magistrate Michael Hegarty said he would not sentence the Jensens to prison so that they could continue working to support their families and pay restitution.
The Jensens already filed for bankruptcy, US media report.
A US Food and Drug Administration inquiry found Jensen Farms installed a new cantaloupe cleaning system - designed to clean potatoes - in 2011.
The system included a chlorine spray meant to sterilise the melons, which was never used.
As a result, their farm sent at least six shipments of contaminated cantaloupe to 28 states.