Associated Press aims to halt Zimmerman painting sale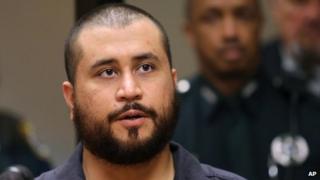 A US news agency is demanding that George Zimmerman, who was acquitted of murdering an unarmed black teenager in 2012, halt the sale of a painting it says he copied from one of its photos.
George Zimmerman is seeking buyers for his portrait of a Florida prosecutor that closely resembles a photograph shot by the Associated Press.
Mr Zimmerman sold a painting on eBay in December for $100,099 (£60,706).
Last year a jury found he killed Trayvon Martin, 17, in self-defence.
The painting, advertised on Twitter by Mr Zimmerman's brother Robert, depicts Florida prosecutor Angela Corey holding her fingers together, with an apparently fictitious quote reading, "I have this much respect for the American judicial system."
Robert Zimmerman has said he and his brother were in negotiations with potential buyers.
'Clearly directly copied'
On Friday, an Associated Press spokesman said Mr Zimmerman "clearly directly copied an AP photo" taken during the press conference in April 2012 in which Ms Corey announced Mr Zimmerman would face murder charges in the shooting death of Martin.
The news agency has sent a letter to Mr Zimmerman's former lawyer, Jayne Weintraub, calling for the sale of the painting to be halted, or for damages to be paid in the event of a sale.
In November, Mr Zimmerman was arrested after reportedly pointing a shotgun at his girlfriend. Prosecutors later declined to file domestic violence charges against him in the incident after the girlfriend refused to co-operate.
He was also briefly detained following a domestic disturbance at the home of his estranged wife, Shellie, in September.
Mr Zimmerman's acquittal on a charge of second-degree murder over the February 2012 killing of Martin also sparked a fierce debate about racial profiling and gun culture in the US.
He said the teenager, who was unarmed and walking at night toward his father's house, attacked him when he confronted him about his presence in the neighbourhood. He said he shot Martin in the chest in self-defence.
The Associated Press has previously sued to protect its intellectual property.
In 2011, it sued artist Shepard Fairey, claiming he used an AP photo as the basis for his famous Barack Obama HOPE poster.
Mr Fairey later settled with the news agency for $1.6m.