Eastern Canada hit with two-wave snowstorm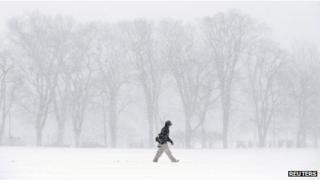 A two-wave winter storm is expected to bring as much as 40cm (16in) of snow to Canada's Atlantic provinces.
All of Nova Scotia and parts of Newfoundland were under blizzard warnings on Wednesday, as the second part of the storm struck.
Schools in Nova Scotia were already closed and almost all flights at Halifax's main airport cancelled.
Gusting winds of up to 90km/h (56mph) were also expected later in the evening.
The front wave of the storm saw about 5-7cm of snowfall on Wednesday morning, with weather officials predicting snowfalls of up to 30cm (11in) in Nova Scotia later in the day.
Officials have warned of blowing snow and near-zero visibility. The Royal Canadian Mounted Police have asked residents to stay off the roads as several accidents were reported.
Meanwhile, much of the eastern US is digging out of a heavy snowstorm that brought as much as 14in of snow to some areas on Tuesday.
Schools in Boston and Philadelphia were closed on Wednesday, but New York City kept open its doors for 1.1 million students.
About 1,400 flights were cancelled as snow tapered off on Wednesday at some of the nation's busiest airports. More than 3,000 were cancelled during the storm on Tuesday.
Bone-chilling cold settled in behind the storm with temperatures as low as -18C (0F) in the eastern half of the US.
The second major wave of cold air in the US since the year began has depleted supplies of fuel, including propane and natural gas, the Associated Press news agency reports.
The high demand for these fuel sources have sent prices to new highs.