Former Virginia Governor Bob McDonnell and wife indicted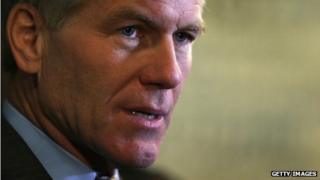 The former governor of Virginia and his wife have been charged with illegally accepting lavish gifts from a businessman while he was in office.
Bob McDonnell, a Republican who left office this month, and his wife Maureen face 14 counts of accepting items valued at $135,000 (£81,955) in total.
Prosecutors say they accepted the gifts from a businessman who sought political favours. The couple deny wrongdoing.
If convicted, they face decades in prison and fines in excess of $1m.
'Deeply sorry'
Mr McDonnell denied the allegations during a news conference on Tuesday with his wife by his side.
"I will use every available resource and advocate that I have for as long as it takes to fight and prevail against these false allegations," he said.
According to the US attorney for the Eastern District of Virginia, the couple accepted trips, loans and gifts from Star Scientific chief executive officer Jonnie Williams in exchange for promoting the company's dietary supplement, called Anatabloc.
Among the items the couple are accused of accepting are:
More than $100,000 in campaign contributions
A $15,000 New York City shopping spree in 2011
Golf outings valued at $7,500
A $6,500 Rolex watch
A $10,000 wedding present to one of the couple's daughters in 2012
The McDonnells also stand accused of lying on loan applications requiring them to declare debts.
Mr McDonnell, who was briefly regarded as a Republican presidential prospect, served as Virginia governor from 2010 until 11 January, when his term ended. Barred by the state constitution from running for a second term, he was succeeded by a Democrat, Terry McAuliffe, who won election in November.
The couple have maintained they did not act improperly and provided no special treatment to Mr Williams nor his company. Mr McDonnell said in the summer of 2013 he had returned all gifts and loans provided by the dietary supplement executive.
"I deeply regret accepting legal gifts and loans from Mr Williams, all of which have been repaid with interest, and I have apologised for my poor judgment," Mr McDonnell told US media on Tuesday.
"However, I repeat emphatically that I did nothing illegal for Mr Williams in exchange for what I believed was his personal generosity and friendship."