One dead in shooting at Purdue University in Indiana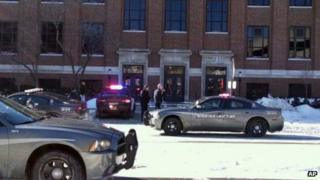 At least one person has been shot dead at Purdue University in the US state of Indiana, a university official has said.
The campus was locked down on Tuesday following reports of the shooting about noon local time (17:00 GMT) near the electrical engineering building.
A suspected gunman was taken into custody after surrendering, and school officials lifted the lockdown.
Purdue University is about 60m (96km) north-west of Indianapolis.
Further details were unavailable.