US east coast hit with heavy snow and bitter cold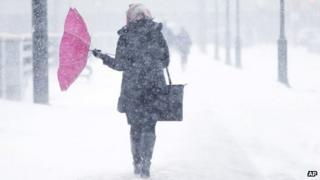 The US east coast has been hit by the second major winter storm of the year, with up to 12in (30cm) of snow, strong winds and bitter cold forecast.
Even before the first flakes had fallen, US government offices in Washington DC and schools in several states were closed pre-emptively.
As snow fell along major motorways along the US east coast authorities warned of hazardous road conditions.
And more than 3,000 flights have already been cancelled in the US.
Another 800 flights were pre-emptively cancelled for Wednesday and Amtrak began to cut back train services on Tuesday afternoon along its popular north-eastern route.
'Dangerously cold'
The storm comes two weeks after a weather pattern known as the polar vortex brought heavy snow and record low temperatures to the eastern half of the US.
Perilous conditions stretched for 1,000 miles (1,600km) from Kentucky to Massachusetts on Tuesday, slowing traffic and sparking winter storm warnings.
Washington DC is expected to see its heaviest snow fall in three years. The White House cancelled an afternoon press briefing and a meeting of President Barack Obama's commission on electoral administration.
But the US Supreme Court remained open to hear arguments.
Temperatures across the eastern US are expected to be 10 to 25 degrees colder than average on Tuesday and Wednesday, according to the US National Weather Service.
"Behind the storm there will be very cold temperatures," Chris Vaccaro, a spokesman for the weather service told the BBC, with temperatures around -18C (0F) in some areas.
"It will be dangerously cold when you factor in the wind," he added. Wind chills are expected to make it feel as cold as -26C.
Gridlock was reported on New York City highways, with commuters reporting drive times of quadruple their normal duration.
"I just want to get to the Bronx," driver Peter Neuwens told the Associated Press news agency. "It's a big place. Why can't I get there?"
The weather has also affected New Jersey Governor Chris Christie's second inauguration. Organisers have cancelled the party scheduled for Tuesday night on Ellis Island in New York Harbor.
Both chambers of Delaware's General Assembly cancelled sessions on Tuesday as the snowstorm approached and Massachusetts Governor Deval Patrick postponed his annual State of the State address.
Transportation officials in Pennsylvania reduced speeds on motorways and other major roads. A spokeswoman told the Associated Press news agency the state had already spent more than half of its $189m (£115m) winter weather budget.
The storm has already been blamed for one death on Tuesday after a car in Maryland slid into the path of a lorry. The driver was thrown from the vehicle.