Former US Afghan commander McChrystal warns of civil war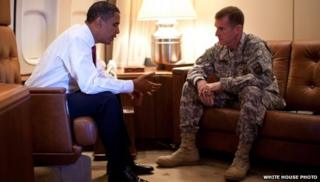 An American general who led Nato troops in Afghanistan from June 2009 until June 2010 has said that the greatest danger facing the country when foreign troops leave is a civil war.
Gen Stanley McChrystal said in an interview with the BBC that the West still needed to show its commitment to Afghanistan after the end of this year.
It is at this time when most US and British troops return home.
Gen McChrystal resigned his Afghan command after criticising US officials.
'Improved significantly'
The retired general told the BBC's Today programme that while he did not think that the Taliban had the strength to take over all of Afghanistan, the greatest danger facing the country was the possibility of different groups vying for control which could lead to civil war.
"I think that would be a return - in the minds of the Afghans - to what they experienced in 1989," he said.
"But I don't think the Taliban have the strength to come in and take over Afghanistan... There is enough capacity in that country, and certainly enough ties that bind, to avoid that."
The general said that an important part of the Nato mission - following the US-led invasion of 2001 to prevent the country been used as a haven by terror groups such as al-Qaeda - was building up the ability of the Afghans to secure themselves.
This he said was something that had "absolutely been improved significantly".
"The ability of a nation to defend itself is partly in the number of the security forces it has but it is also in the fabric and sinew of its society and the confidence of its people," he said.
"I think that would be the part that I would worry most about - that eroding confidence would cause people not to join the army, not to join the police, not to support local government - that would be the most dangerous scenario."
BBC Defence Correspondent Jonathan Beale says that Gen McChrystal may have left the army under a cloud - following an interview with Rolling Stone magazine in which he criticised senior members of the Obama administration - but he is still seen as an influential military thinker and architect of the strategy in Afghanistan.
Our correspondent says that throughout his command Gen McChrystal put an emphasis on preventing civilian casualties - and has also sounded a note of caution on the increasing use of drones.
The general said that while they were "effective tools", they can also "create a tremendous amount of resentment" - with a perception of helpless people being shot at by thunderbolts from an omniscient and omnipotent entity.