Explosion at Nebraska animal feed factory kills two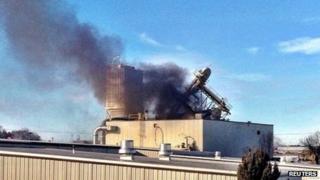 An explosion and partial building collapse at an animal feed processing plant in Omaha, Nebraska, has killed two people, authorities say.
Ten others were injured in the blast at the International Nutrition plant. Nineteen other workers managed to escape, officials say.
Rescuers worked into Monday evening to stabilise the building, before the search was suspended.
The cause of the blast has not yet been determined.
The fire that followed the explosion around 10:00 local time (16:00 GMT) has been extinguished. Thirty-eight people were inside the building at the time of the blast.
All have now been accounted for and the death toll is not expected to rise.
One of those working at the building was Jamar White, who told the Associated Press news agency he had heard a loud crack and then looked up to see the back wall of the building collapsing.
"I ran at least 150ft," Mr White said. "I ran far enough to make sure nothing else would keep falling."
Afterwards, Mr White said, he could see inside the third floor of the building where at least two other workers were screaming for help.