Pennsylvania judge strikes down voter identification law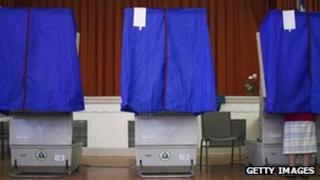 A Pennsylvania judge has struck down a state law requiring voters to show photo ID in order to cast a ballot, saying it places an "unreasonable" burden on voters.
Republicans passed the law in 2012, saying it would prevent voter fraud.
Its opponents argued hundreds of thousands of Pennsylvanians lacked acceptable IDs and could be discouraged from voting as a result.
State courts have barred enforcement of the law since 2012.
"Voting laws are designed to assure a free and fair election; the Voter ID Law does not further this goal," Commonwealth Court Judge Bernard McGinley McGinley wrote in his 103-page opinion.
The law was one of many pushed through in recent years by Republicans in power in state legislatures who have argued they prevent voter fraud. The laws' supporters say ample opportunities exist for voters to obtain valid photo identification.
Democrats charge the voter identification laws are thinly-disguised efforts to suppress poor, minority and elderly voters who typically support Democratic candidates. They say the laws' supporters have shown no evidence of widespread voter fraud that would make such laws necessary.
In Pennsylvania, Mr McGinley ruled the law did not require the state to make it convenient and easy for voters without a photo ID to obtain one, therefore rendering the law unconstitutional.
"Any voter ID law must contain a mechanism for ensuring liberal access to compliant photo IDs so that the requirement… does not disenfranchise valid voters," he wrote.
The ruling on Friday strikes down only a portion of the law, while the law's enforcement as a whole was blocked by a previous court order.
Republican Pennsylvania Governor Tom Corbett's administration has not yet announced whether it will appeal Friday's ruling to the state supreme court.