One killed in US 'Night Stalkers' hard landing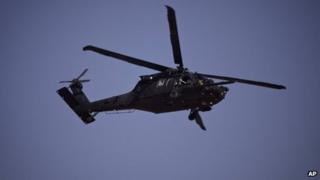 One US soldier was killed and two others injured after a helicopter slammed into the ground after a training mission, the US Army has said.
An MH-60 Blackhawk was returning to Hunter Army Airfield in Savannah, Georgia, from a training flight and made a "hard landing" on Wednesday.
The soldier's names were not released pending notification of next of kin.
All were part of an elite Army unit that flies helicopters in night time operations, known as Night Stalkers.
In a statement, 160th Special Operations Aviation Regiment spokesman Maj Allen Hill said the Army was investigating what happened as the training flight ended at about 23:30 local time on Wednesday (04:30 GMT Thursday).
"They were on final approach," he told the Associated Press news agency. "Nothing seemed out of the ordinary."
Maj Hill did not know how badly the helicopter was damaged. Footage from a local broadcaster showed the aircraft leaning to one side near the base's runway.
The two injured crew members were taken to a local hospital.
The Night Stalkers, based in Kentucky, flew Navy Seals into Pakistan in the 2011 raid that killed Osama bin Laden.