Google Glass driver Abadie has case dropped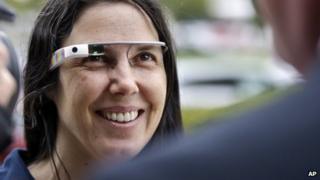 A woman issued with a traffic ticket for driving while wearing Google Glass has had her case dropped in California.
Cecilia Abadie was pulled over and given a ticket for speeding and wearing the smart spectacles while driving on 30 October.
A San Diego court commissioner ruled on Thursday he had found no proof the device was operating at the time.
She was cited for breaking a California law barring motorists from watching TV while driving.
After the ruling, Ms Abadie, who develops Web and mobile applications, said the glasses do not give drivers any "blind spots".
"I believe we have to start experimenting with devices like this," Ms Abadie told reporters. "A hands-free device is safer than a cell phone."
She was one of an estimated 30,000 people initially selected to try the device before it becomes widely available this year.
Device 'turned off'
In October, Ms Abadie was pulled over by a California Highway Patrol officer for driving at 80mph (128km/h) in a 65mph zone on Interstate 15 in San Diego.
The officer observed Ms Abadie wearing Google Glass and cited her for using a visible "monitor", a charge typically issued to people driving while watching a television screen.
The device includes eyeglass frames equipped with a camera and small display controlled by voice command.
Ms Abadie has argued the device was not turned on when she was pulled over.
Court Commissioner John Blair said during the hearing he believed Google Glass fell under "the purview and intent" of the ban on driving with a monitor.
But he said there was "no testimony it was operating or in use while Ms Abadie was driving".