New Mexico student 'warned' of Roswell school shooting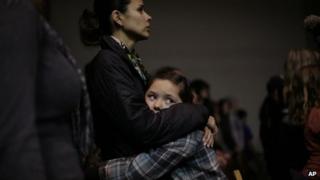 A 12-year-old alleged to have shot two of his classmates in New Mexico may have warned other students, police say.
State police chief Peter Kassetas said there were "indications" he had told "some students" he ran into at Berrendo Middle School in Roswell to stay away.
A 11-year-old boy shot in the face and the neck was still in critical condition on Wednesday. A second victim was in a stable condition.
Police said prosecutors were still working on what charges to bring.
The family of the suspect said in a statement to the Associated Press their thoughts and prayers were with the two injured students.
They added the family would continue to co-operate with officials as investigators determine "how this awful tragedy occurred".
'Thought-out'
"We found evidence it was thought out and planned," said the police chief, adding that he thought the victims had been hit at random.
While he suggested there was some "preliminary information" that some students may have had prior warning not to go to school, he gave no further detail and said that had not yet been corroborated.
The shooting occurred inside the school gymnasium about 08:00 local time (15:00 GMT) on Tuesday.
The suspect fired three shots from a sawn-off shotgun he had taken from his home, according to Chief Kassetas.
Police said they believed it was the only ammunition the suspect had.
Contrary to earlier reports, the student carried the firearm in a duffel bag, not an instrument case.
Earlier, Roswell School Superintendent Tom Burris said the school's faculty had responded appropriately.
"In the 10 seconds that transpired from the time of this thing starting until the teacher had control of the weapon, there was no cowardice," Mr Burris said on Tuesday.
"There was protection for our kids. Everyone acted and did their duties today at Berrendo Middle School."
New Mexico Governor Susana Martinez praised as heroic the actions of a teacher who had persuaded the suspect to put down his weapon.
John Masterson, who initially had his back to the 12 year old, turned when he heard the first shot, and began talking to the student.
"The young man put the gun down and raised his hands," Ms Martinez said.