US Senate panel finds Benghazi attack was 'preventable'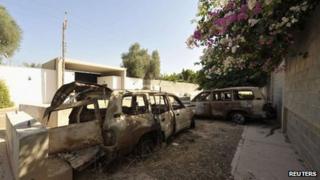 The deadly September 2012 attack on the US consulate in the Libyan city of Benghazi could have been prevented, a US Senate committee has said.
The cross-party inquiry faulted "known security shortfalls" at the time of the attack, which killed four including US Ambassador Chris Stevens.
The US state department failed to heed security warnings, the report said.
The incident led to Republican allegations the White House covered up information about the attack.
Senate intelligence committee investigators conducted dozens of hearings, briefings and interviews to compile the 85-page report, released on Wednesday.
'Deteriorating security situation'
"The committee found the attacks were preventable, based on extensive intelligence reporting on the terrorist activity in Libya - to include prior threats and attacks against Western targets - and given the known security shortfalls at the U.S. Mission," the panel said.
Senator Saxby Chambliss, the senior Republican on the committee, said: "In spite of the deteriorating security situation in Benghazi and ample strategic warnings, the United States Government simply did not do enough to prevent these attacks and ensure the safety of those serving in Benghazi."
Among the committee's key findings:
Intelligence officials warned numerous times of the deteriorating security situation in eastern Libya, saying US facilities and personnel were at risk in Benghazi prior to the attack
US operations continued with minimal change despite repeated warnings and security "tripwires" being crossed
US military resources were not positioned to respond to a security breach in time to save the US personnel under attack
The intelligence community took too long to correct erroneous reports of a protest at the US mission and its connection to the attack
The militants who waged the attack have not been brought to justice more than a year after the attack
The committee also issued recommendations based on its findings, including security upgrades to state department facilities as well as analysing extremist-affiliated social media when appropriate.
Despite ongoing embassy security concerns stemming from the Benghazi attack, the US Congress elected to slash $224m (£137m) from its 2014 budget over the previous year for international embassy security and maintenance.
The attack, in which gunmen stormed the US compound and set it on fire, has become a political lightning rod.
Some Republicans have accused the Obama administration of covering up the involvement of terrorist groups to protect President Barack Obama's re-election campaign.
The White House initially said the attack grew out of violent protests against an anti-Islam video produced in the US.
Further inquiry found that it was an organised attack planned by local militias, although an extensive New York Times investigation did indeed find some of the attackers were motivated by the film.
"I hope this report will put to rest many of the conspiracy theories and political accusations about what happened in Benghazi," Democratic Senator Dianne Feinstein, the intelligence committee chairwoman, said.