Bruce Springsteen lampoons Chris Christie on Jimmy Fallon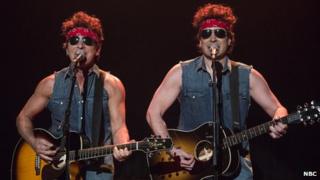 New Jersey's most famous rock star, Bruce Springsteen, has mocked the state's embattled governor Chris Christie on late-night television.
The rocker joined Late Night programme host Jimmy Fallon for a duet sending up a scandal embroiling the governor.
It has recently been revealed his senior staff orchestrated a traffic jam at the foot of a major bridge in an act of apparent political payback.
Springsteen and Fallon sang a parody duet to the tune of Born to Run.
"You got Wall Street masters stuck cheek-to-cheek with blue collar truckers/ and man I really got to take a leak, but I can't, I'm stuck in Governor Chris Christie's Fort Lee, New Jersey, traffic jam," Springsteen sang on the NBC programme.
"Some day governor, I don't know when, this will all end. But 'til then you're killing the working man who's stuck in the Governor Chris Christie Fort Lee, New Jersey, traffic jam," the two sang in duet.
Mr Christie is an avowed Springsteen fan - he has admitted weeping after receiving a hug from Springsteen, one of the state's most famous sons, at a 2012 concert.
The parody came just hours after Mr Christie pledged to co-operate with inquiries into the scandal, which has threatened his political future.
"We let down the people we are entrusted to serve," he said in a major speech on Tuesday, referring obliquely to the row known as "Bridgegate".
He had previously been seen as a top early contender for the 2016 Republican presidential nomination.
"I am the governor and I am ultimately responsible for all that happens on my watch - both good and bad," he said.
Investigations by the New York and New Jersey news media and by Mr Christie's Democratic political opponents indicate the governor's top aides ordered the closure of two local lanes from the town of Fort Lee on to the George Washington Bridge, which connects New Jersey to Manhattan, last summer.
The mayhem on the span, one of the most heavily trafficked in the world, was allegedly orchestrated in revenge against Fort Lee Mayor Mark Sokolich, a Democrat who declined to endorse Mr Christie's re-election as governor.
Mr Christie has fired a top aide after emails released by the state legislature apparently showed her engineering the lane closures.
First elected in 2009, Mr Christie, a former prosecutor, was handily re-elected in November.