New York Yankees' Alex Rodriguez in season doping ban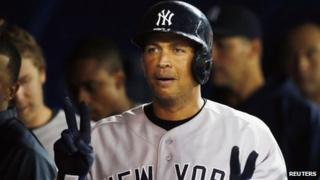 Baseball's highest paid star, Alex Rodriguez, has been suspended for the entire 2014 season in a doping scandal.
The ruling by arbitrator Fredric Horowitz means the New York Yankees slugger will lose more than $22m (£13m) for the games he is missing.
The 38-year-old is one of a few players who have been linked to a closed Florida clinic which allegedly supplied banned performing-enhancing drugs.
Rodriguez, popularly known as A-Rod, said he would fight to reverse the ban.
He attacked Saturday's ruling - in response to his appeal - as "one man's decision, that was not put before a fair and impartial jury, does not involve me having failed a single drug test, is at odds with the facts".
He added: "I have been clear that I did not use performance-enhancing substances as alleged... and in order to prove it I will take this fight to federal court."
The ban is the longest in the sport's history for doping and raises the possibility that Rodriguez - arguably baseball's biggest star - will not play again.
The Major League Baseball union, said it "strongly" disagreed with the ruling but recognised that "a final and binding decision has been reached".
Rodriguez was suspended last year along with 13 other players include the Texas Rangers' Nelson Cruz, Jhonny Peralta of the Detroit Tigers, and Everth Cabrera who plays with the San Diego Padres.
They each received a 50-game ban but Rodriguez was the only one to appeal.
Plague on sport
They are the latest players to fall foul of the doping allegations which have plagued the sport.
Major League Baseball, the organisation governing the sport, has said Rodriguez's punishment was over "his use and possession of numerous forms of prohibited performance-enhancing substances, including testosterone and human growth hormone, over the course of multiple years".
He was also accused of "attempting to cover up his violations" by obstructing the investigation.
The accusations against Rodriguez emerged from a major investigation into a shut Florida drug clinic, Biogenesis, that allegedly distributed performance-enhancing drugs to a number of professional baseball players.
Rodriguez was accused of interfering with the Major League Baseball investigation into Biogenesis, resulting in a harsher penalty, correspondents say.
He previously admitted using performance-enhancing drugs while playing for a Texas team between 2001-03, but had denied using steroids since.
He was named Most Valuable Player in baseball's American League three times.
The divorced father of two's earnings for 2013 were over $30m (£19.5m) according to Forbes.
Rodriguez has previously been romantically linked to a string of celebrities, including pop singer Madonna and actresses Kate Hudson and Cameron Diaz.
After years of inflated batting statistics - and arm muscles - during what has become known as baseball's "steroids era", the extent of doping in the sport was laid bare in a 2007 report by former Senator George Mitchell.
The sport subsequently strengthened its drug-testing policies and created an investigative branch to prosecute such offences.