Five things you need to know about Robert Gates' memoir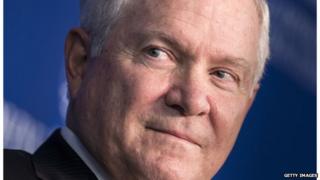 US defence secretary Robert Gates used to seethe with anger at colleagues and fantasised about quitting. In other words he comes across as remarkably human.
Gates' Duty: Memoirs of a Secretary at War will be published on 14 January. Here are some of the important points about the book - and how it is being received.
He gets worked up.
Like other Pentagon officials, he was stone-faced on the job. Yet underneath he felt things, just like the rest of us. As the BBC's Mark Mardell says on his blog:
"The biggest revelation in former Defence Secretary Robert Gates' memoirs is the former Pentagon chief, a man known for his calm and charm, seethed with an inner fury at the Washington game."
He found himself "running out of patience on multiple fronts", as an excerpt shows, struggling to deal with officials as they determined polices for the military.
"Every evening I could not wait to get home, get my office homework out of the way, write condolence letters to the families of the fallen, pour a stiff drink, wolf down a frozen dinner or carry out," he writes.
He says nice things about Hillary.
He was dismayed by the way that Hillary Rodham Clinton, the former secretary of state, spoke about politics - and how they influenced her position on Iraq. Nevertheless as defence secretary he felt close to her and described her as a "very valuable colleague".
Secretaries of the defence and state departments often clash. Yet these two got along well, as an interview on Nightline showed.
Their friendship helped to ensure that the state department and the defence department would become more integrated than they had been in the past.
This is partly why defence experts at conservative think tanks in Washington are enthusiastic about the possibility of a Clinton White House. She thinks like they do.
People in the Obama White House are annoying.
Mr Gates got along well with Mrs Clinton but felt less charitable towards others. One of the worst, according to Mr Gates, was Vice-President Joe Biden, whom he says was "wrong on nearly every major foreign policy and national security issue over the past four decades".
Equally troubling, Mr Biden was guilty, Mr Gates alleges, of "poisoning the well", turning key players such as Thomas Donilon, a national security adviser, and Lt Gen Douglas E Lute, who was co-ordinating the wars in Iraq and Afghanistan, against the military leaders.
This matters because of the way that policies were created - largely by the individuals close to Mr Obama.
"His White House was by far the most centralised and controlling in national security of any I had seen since Richard Nixon," Mr Gates writes.
According to Mr Gates, the key players in the Obama White House were "suspicious, and sometimes condescending and insulting" toward the military.
White House officials, both current and former, are peeved.
They are mad because Mr Gates published the memoir while Mr Obama is still in office. "I think it's just a disservice," said a former White House chief of staff, Bill Daley, who is now a CBS News contributor.
His writing about war, viewed from afar, is heartfelt and profound.
He describes the anodyne nature of warfare and how this makes it easier for people in Washington to forget what it means.
"A bomb destroys the targeted house on the right and leaves the one on the left intact. For too many people - including defence '"experts', members of Congress, executive branch officials and ordinary citizens - war has become a kind of videogame," he writes.
"But my years at the Pentagon left me even more skeptical of systems analysis, computer models, game theories or doctrines that suggest that war is anything other than tragic, inefficient and uncertain."
At the end of his memoir, he writes that someday he will be buried in Section 60 in Arlington Cemetery in Virginia. The place is filled with graves of soldiers who were killed in Afghanistan and Iraq.
He says: "The greatest honour possible would be to rest among my heroes."