Emails link Chris Christie aide to lane closures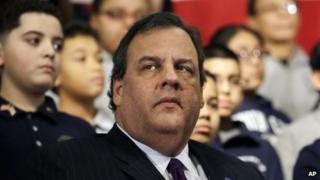 Republican rising star Chris Christie, New Jersey's Governor, has vowed to act over claims his aide engineered traffic mayhem for a petty political vendetta.
Emails and texts appear to link a Christie aide to the closure of lanes to the George Washington Bridge, one of the world's busiest, in September.
The gridlock was allegedly orchestrated to punish a Democratic mayor who did not endorse the governor's re-election.
In a statement, Mr Christie called the lane closure incident "unacceptable".
The documents made public on Wednesday do not suggest that Mr Christie himself had anything to do with the lane closures, but they may contradict his assertions that none of his staff was involved.
'Completely inappropriate'
The scandal is brewing as the tough-talking governor, often touted as a 2016 White House candidate, is due to tour the nation in his other role as chairman of the Republican Governors Association.
"Time for some traffic problems in Fort Lee," top Christie aide Bridget Anne Kelly wrote on 13 August, in one of the emails obtained by US media.
"Got it," replied David Wildstein, whom the governor appointed to the Port Authority of New York and New Jersey, which controls the George Washington Bridge.
On 9 September, two of three traffic lanes to the bridge - which is a major crossing to New York City - were shut for several days.
Mr Christie and Port Authority officials later said the decision was part of a traffic study.
It caused major traffic jams in the New Jersey borough of Fort Lee, whose mayor, Mark Sokolich, had declined to support Mr Christie's re-election campaign last autumn.
The Republican New Jersey governor was endorsed by a number of Democratic mayors during last year's election, which he won handily.
Mr Christie postponed a morning event after the emails were released on Wednesday, later issuing a public statement saying he would not tolerate such behaviour by his staff.
"I am outraged and deeply saddened to learn that not only was I misled by a member of my staff, but this completely inappropriate and unsanctioned conduct was made without my knowledge," he said.
"This behavior is not representative of me or my Administration in any way, and people will be held responsible for their actions," Mr Christie concluded.
Mr Wildstein, who has since resigned, is due to testify under oath on Thursday before a state legislature committee investigating the claims.