Liz Cheney ends bid for Wyoming Senate seat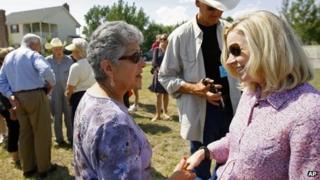 Liz Cheney, the daughter of former US Vice-President Dick Cheney, has ended her run for a US senate seat from Wyoming, citing a family health crisis.
Ms Cheney, 47, did not specify what the "serious health issues" were.
Ms Cheney, who moved from the Washington area to run for the seat, faced a tough Republican primary contest against popular incumbent Senator Mike Enzi, analysts say.
She recently had a public spat with her sister over her views on gay marriage.
In November, she told a news programme she believed in the "traditional" definition of marriage after a group ran attack ads suggesting that she had previously voiced support for same-sex marriage rights.
The remarks prompted her sister Mary Cheney, who is married to a woman, to post on Facebook: "You're just wrong."
The two sisters have reportedly not spoken in months.
Liz Cheney did not mention those controversies in the statement announcing her withdrawal, but said "my children and their futures were the motivation for our campaign and they will always be my overriding priority".
Her campaign to unseat Mr Enzi, who was first elected to the Senate in 1996 and has maintained a very conservative record, angered many within the party, making it difficult for Ms Cheney to draw support from the Senate and Wyoming politicians.