North America weather: Your experiences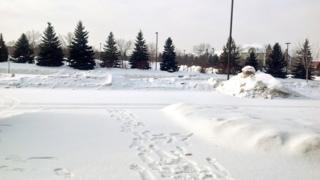 Many areas in the US are braced for possible record-breaking low temperatures as a "polar vortex" brings more freezing weather.
A winter storm has covered areas of Canada and the north-eastern US with up to 2ft (60cm) of snow.
It has been blamed for 16 deaths in recent days.
BBC News website readers have been sharing their experiences of the very cold weather.
Bill Brant, Ile-des-Chenes, Manitoba, Canada
It's been the second coldest December since records began in the 1870s.
Temperatures have been close to normal, that is -13C by day and -24C by night, just once a week in the past few weeks.
We have had permanent snow since the third week of December. There are snow banks here that are 2m high.
My neighbour is a contract builder and has a digger so he has been clearing the snow from our driveways.
The real impact has been the brutal cold throughout December.
The temperatures of -38C with a wind chill of -51C discourage people from venturing out even for a few minutes.
Minus 30C without a wind chill is bearable - but with the wind chill, it's like a razor cut.
We're wearing parkers and gloves that are thermally insulated, and balaclavas are essential.
Today is my first day back at work. My car started up OK because I have block heaters installed in the car to keep it at a reasonable temperature in order for it to start.
People were driving slowly because the roads are incredibly slippery, so the journey to work took twice as long as normal.
We have experienced winters like this from time to time, but this one is quite brutal with as much snowfall to match to cold.
Steve Collier, Libertyville, Illinois, US
On Sunday, the snow was up to 18.5in high.
The temperature has plummeted to -25C - the lowest for the last two decades.
I'm originally from the Wirral in the UK and I have been living in Illinois for the last 17 years.
It is the coldest I've ever experienced since I moved here.
People who live in the Chicago area are used to the cold weather. We dress accordingly and wear sturdy boots.
The winters are long but it's early in the season to have such low temperatures.
The road conditions are very bad particularly in the non-main roads - I have seen a number of spin outs where people have been driving too fast on the icy roads.
People are not spending time outside unless they absolutely need to.
Exposure of the ears and nose is a real danger. You literally feel that ears can be snapped off.
We feel for the homeless people especially downtown. We have a number of warming centres so they can get warmed up.
Lawrence Short, St. John's, Newfoundland and Labrador, Canada
We are having rolling blackouts that are highly unusual.
We are losing power for up to an hour at a time. There is currently power, but we may lose it later.
This is controversial because we supply electricity to North America and yet we aren't getting any!
Children are supposed to go back to school on Monday but the schools are closed and will not be open until Wednesday.
I am back at work but most of the province is either in shutdown on in difficulties.
There are still 30,000 to 50,000 people without power.
We are a seaport on the eastern most point of North America and there have been interruptions with the ferry service.
Public transport in the city was cancelled over the weekend.
A temperature of -12C is incredible to us in St John's if not to the rest of Canada, as we're not used to having this much snow.
There is beautiful sunshine at the moment and it's -8C. But when it gets dark and the lights are out, conditions become problematic for us.
Interviews by Andree Massiah