Small jet crashes on landing at Aspen, Colorado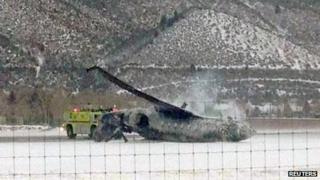 A private jet has crashed on landing at Aspen airport, Colorado, killing one of three people on board, officials say.
The other two were injured - one of them severely - after the plane smashed into the runway in icy conditions.
Federal Aviation Administration spokesman Allen Kenitzer said the jet came from Tucson, Arizona, and appeared to be a Bombardier Challenger 600.
Aspen, a Rocky Mountains resort city, is located about 100 miles (160km) south-west of Colorado capital Denver.