No drugs or alcohol in fatal crash of actor Paul Walker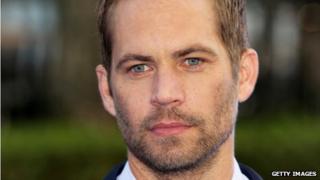 Neither US actor Paul Walker or the driver in their fatal car accident were under the influence of drugs or alcohol at the time of their deaths, a post-mortem examination has found.
Their Porsche was travelling at an "unsafe speed" when it hit a pole and burst into flames in California on 30 November, a coroner's report stated.
Both deaths have since been ruled accidents, authorities say.
Paul Walker was best known for the car racing films Fast and Furious.
Ongoing investigation
Authorities estimate the car was travelling at nearly 100mph (160km/h) at the time of the fatal accident, according to the coroner's report released on Friday.
But sheriff's officials say the investigation into the accident has yet to be completed.
A previous post-mortem examination determined Walker, 40, was killed by impact and injuries related to a fire.
The Los Angeles County coroner found that the driver, Roger Rodas, died from impact injuries alone.
Both men are said to have died within seconds of the crash, according to media reports.
Walker starred in the Fast & Furious blockbuster films that celebrated high-speed car chases.
Production on the seventh instalment of the Fast and Furious franchise was temporarily halted following his death.
Universal Pictures later announced the film's release date would be pushed back several months to April 2015.