Chinese consulate in San Francisco damaged by arson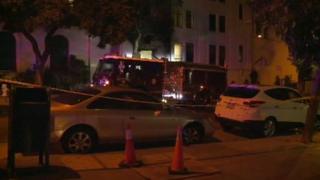 The Chinese consulate in San Francisco has been damaged after its main gate was set on fire on Wednesday night.
Consular officials said an unidentified person parked a van in front of the mission, then poured two cans of petrol on the main gate and set it ablaze.
The consulate condemned the "vicious, destructive act of arson" and urged police to solve the crime quickly.
While protests outside Chinese consulates are common in Western countries, acts of violence are rare.
No-one was injured by the fire, but Chinese officials said the building was "severely damaged" and the safety of personnel had been threatened.
The FBI, which is leading the investigation into the fire, confirmed to the Associated Press the blaze was ignited in front of the building.
FBI spokesman Peter Lee said the fire was caused by an "incendiary device" but said only that no bomb-making materials were found nor were there any traces of an explosion.
"The FBI takes any criminal offence directed toward a diplomatic establishment very seriously," he said.
Mr Lee said the agency did not know whether the consulate had received any recent threats.
San Francisco fire officials said they responded to the fire about 21:30 local time (05:30 GMT Thursday) on Wednesday evening and had the blaze under control within minutes.
The safety of Chinese diplomatic personnel and missions has been a sensitive issue since the US military accidentally bombed the Chinese embassy in Belgrade during air strikes against Serbia in 1999.
The bombing set off a series of protests - many Chinese still believe it was intentional.