Toronto Mayor Rob Ford runs for re-election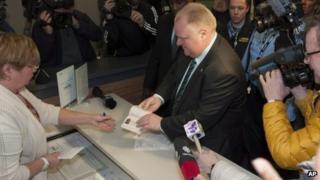 Toronto Mayor Rob Ford, who admitted to once smoking crack cocaine while in a "drunken stupor", has filed re-election papers.
Putting his name on the ballot to run for another term, Mr Ford revealed his new campaign slogan: "Ford more years".
"I've got the strongest track record," he told journalists. "I've been the best mayor this city has ever had."
He is the sole candidate so far for the 27 October municipal election, but rivals are expected to challenge him.
The conservative mayor was first elected in 2010 to lead Canada's largest city on a pledge to tackle wasteful spending at city hall.
He said it was for the voters ultimately to deliver their verdict on his personal problems.
'Track record'
He told reporters on Thursday: "My track record speaks for itself. We've got the lowest taxes than any other major city in North America.
"The city is absolutely booming... I've dealt with the issues that other mayors couldn't deal with."
Mr Ford put Toronto in the international spotlight in November when he admitted having once smoked crack cocaine "in a drunken stupor".
In the fallout from the drug scandal, political opponents stripped Mr Ford of most of his mayoral powers as he insisted he would run for office again.
He has brushed aside pressure to quit and remains popular in some of Toronto's more conservative suburban areas.
Allegations have also surfaced in police documents that Mr Ford used racially abusive language, threatened staff, sexually propositioned a female colleague and snorted cocaine in a restaurant.
He denies the claims.