Colorado cannabis customers swarm as drug's sale goes legal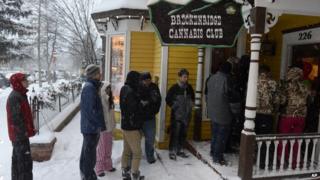 Long queues have been seen as the world's first state-licensed marijuana industry opened for business in the US state of Colorado.
Hordes of customers braved bitter cold and snow at about two dozen outlets across the mountainous state.
Residents aged 21 and over can buy 1oz (28g), while those from out of the state can purchase up to 0.25oz.
Washington state has also legalised cannabis, and is expected to allow the drug's sale later this year.
Colorado's system differs from the Netherlands in that the Dutch have never legalised cannabis, even though the purchase and consumption of small amounts of the drug have been informally permitted since 1976.
Last month, Uruguay became the first country in the world to fully legalise pot, but it has yet to set up its system.
Blustery winter weather could not deter Colorado's cannabis consumers from turning out in large numbers on 1 January, dubbed Green Wednesday, to see history in the making.
Joints, cannabis pastries and confectionary, and even marijuana-infused soaps, oils and lotions were on sale at licensed dispensaries.
Under the new rules, cannabis can only be smoked on private premises, with the permission of the owners.
Police reportedly issued citations to several shoppers who appeared to be under the impression that the new rules allowed them to smoke pot in public.
"It's a huge deal for me," Andre Barr, a 34-year-old deliveryman who drove all the way from the state of Michigan, told the Associated Press news agency. "This wait is nothing."
High prices
Jacob Elliott, 31, a defence contractor from Leesburg, Virginia, near Washington DC, told Reuters news agency as he queued outside the 3D Cannabis Center in Denver: "I never thought it would happen."
Colorado's policy places it at the forefront of efforts in the US to legalise cannabis. In 18 other states, marijuana is approved for medical purposes, though the drug is still illegal under federal law.
The US Department of Justice has advised Colorado officials to ensure the drug remains within state borders or face a federal crackdown.
Signs at Denver International Airport warn travellers they are forbidden to take the drug home with them.
Store owners stocked up, hired extra security and prepared celebrations for their Green Wednesday grand opening.
But it wasn't just the customers that were high - the prices were enough to give some a sore head.
One dispensary was charging $70 (£42) for one-eighth of an ounce of cannabis, nearly three times what medical marijuana patients had been paying just a day earlier for the same amount.
Iraq war veteran Sean Azzariti, who has campaigned to legalise marijuana, reportedly made Colorado's first legal recreational marijuana purchase, at an outlet in Denver.
He said the drug helps to ease his symptoms of post-traumatic stress disorder.
"I couldn't be happier," he told US media. "It's a huge stepping stone for other states as well, so it's a huge honour, to say the least."
Psychiatric fears
Under a measure approved by Colorado's voters, possession, cultivation and private, personal, recreational consumption of marijuana has already been legal in the state for more than a year.
But under the new law that took effect on Wednesday, cannabis is being sold and taxed like alcohol.
State officials expect it to raise $67m in annual tax revenue, a chunk of which will be used for school construction.
A total of 136 stores, mostly in Denver, have so far been given licences to sell marijuana with more permits pending.
Some communities elsewhere in Colorado have exercised their right not to have the stores.
Supporters of legalising cannabis have praised Colorado's move.
But critics say it sends the wrong message to the nation's youth and fear it will lead to serious health and psychiatric problems.