Breaking Bad prize winner arrested on drugs charges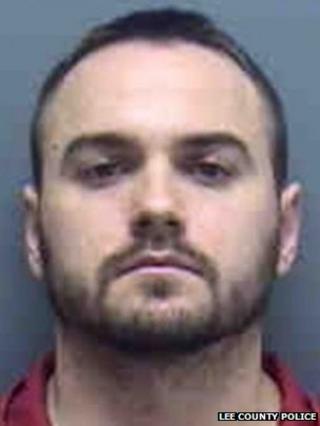 A Florida man who won a contest to watch the final episode of the drama Breaking Bad has been charged with drug possession.
Ryan Lee Carroll was arrested for possessing a synthetic narcotic and a controlled substance without a prescription.
Police refused to say whether the drug was methamphetamine - manufactured by the protagonist of the show.
Another man, James Lee Allen, was also arrested on the same charges.
Mr Carroll also faces a misdemeanour charge of keeping a shop or vehicle for dangerous drugs.
'Highly addicting'
In September last year, he was the envy of many when he won a contest to watch the series finale with the cast at a private party in Los Angeles.
The competition was sponsored by Breaking Bad star Aaron Paul who played methamphetamine (meth) producer and user Jesse Pinkman.
At the time, Mr Carroll, a graduate of Florida Gulf Coast University, said the show was "highly addicting, just like the meth they make."
The critically acclaimed drama followed the life of Walter White (Bryan Cranston), a high school chemistry teacher who is diagnosed with terminal cancer.
In order to secure his family's future before he dies, he turns to a life of crime, making and selling meth, with Pinkman his partner in crime.
The series ran for five seasons from 2008 - 2013 and garnered a host of awards including outstanding series at the Emmys.
Bryan Cranston enjoyed three consecutive wins as Best Actor for his portrayal of Walter White.