US and Canada outage misery persists for 130,000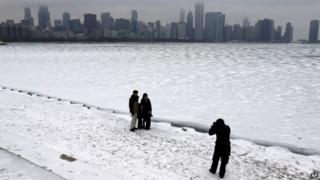 More than 130,000 householders in parts of the US and Canada still have no electricity supply, after last weekend's ice storm.
As of Friday morning, about 64,000 customers remained without power in the US state of Michigan and 12,000 were in the dark in the state of Maine.
Nearly 62,000 in eastern Canada, including 32,000 in Toronto, were still suffering outages.
Ten deaths in the US and 17 in Canada have been blamed on the storm.
Several of those were from apparent carbon monoxide poisoning caused by generators, charcoal stoves and other appliances that people have been using to heat their homes in freezing temperatures.
Toronto Mayor Rob Ford warned at a media briefing on Friday morning that poor weather forecast for Friday evening could cause further outages.
Frustrations have been mounting among off-the-grid customers.
"I mean, it's great that there's a warming centre, but if you don't have a TV or a radio that works, how are you going to know that there's a warming centre?" Toronto resident Rick Medeiros told the Canadian Broadcasting Corporation.
At the height of the power cuts following last weekend's ice storms, more than 1.2 million customers had no electricity across the US and Canada.
Even the Premier of Ontario, Kathleen Wynne, was without power on Christmas morning, she told reporters.
The Toronto District School Board has closed all of its facilities until further notice for safety inspection, including child care centres.
Utility crews are working around the clock, but warn that some homes could be without power at least until this weekend.
Toronto Hydro has asked the public not to distract its repair workers by engaging them in conversation.
The perils of the job were underlined when a repairman fell from a ladder in Lansing, Michigan, suffering broken ribs and a shoulder injury on Tuesday.
Consumers Energy repairman Jeff Morrall, who has been on duty in recent days in the west of that state, said the work has been arduous.
"You look up and you can barely see out of your safety glasses," the 51-year-old, who has spent much of the past week in motel rooms, told the Associated Press news agency.
"When we were working Sunday in Muskegon, you could see the branches breaking. You hear a big old crash, thinking, 'I hope these branches don't break over our heads'."
But he said the workers were cheered up by grateful residents who brought them Christmas dinner.