UPS and FedEx Christmas shipment delays cause anger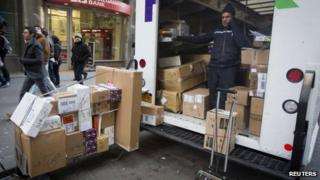 Shipping problems experienced by parcel delivery firms UPS and FedEx have left some US customers without the Christmas presents they were expecting.
The two delivery giants said that some of their shipments had been delayed, but did not specify how many, just saying that "a small share" of the overall shipments had been affected.
UPS said its network on the East Coast had suffered a breakdown.
And FedEx apologised to its customers for possible delays.
Online retailer Amazon also sent out an apology to those affected by the breakdown.
"We understand this is a disappointment. We wanted to let you know about this as soon as possible in case you need to make other plans," the message read.
Amazon also offered customers an automatic $20 (£12) credit "to compensate for the inconvenience".
Disappointed grandma
FedEx Corp spokesman Scott Fiedler said the company had handled 275 million shipments between Thanksgiving and Christmas, and that only very few of those would not be delivered on time.
UPS said in a service advisory that it was "experiencing heavy holiday volume".
"The volume of air packages in our system exceeded the capacity as demand was much greater than the forecast, resulting in some shipments being delayed," a statement on its website read.
The company said it expected "a vast majority of these packages will be delivered the day after Christmas".
Some customers vented anger on social media.
A Twitter user named Jennifer Marten said: "Package was delayed in transit & not received as guaranteed. Disappointed 9 year old."
And Jeff Cormier, from Dallas, told Associated Press: "My wife and I had our presents to open. Our daughter had her presents to open. And my grandma, she didn't have anything to open."