US healthcare insurance deadline extended a day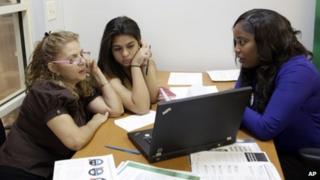 A deadline for Americans to sign up for health insurance to receive coverage by 1 January under "Obamacare" has been extended by a day to Christmas Eve.
The Obama administration announced the grace period amid high demand and concerns about technical issues.
Healthcare.gov, the federal marketplace website, has been plagued by glitches since its 1 October rollout.
In a symbolic move, President Barack Obama signed up for insurance through Washington DC's marketplace website.
Mr Obama already receives heath insurance through the military in his role as commander-in-chief, but enrolled in a show of support, signing up for a less-expensive "bronze" plan, according to the White House.
'Sign up today'
Despite the deadline extension, federal officials urged those seeking insurance not to delay.
"You should not wait until tomorrow," said Julie Bataille, a spokeswoman for Centers for Medicare and Medicaid Services, the federal agency in charge of the federal website.
"If you are aiming to get coverage January 1, you should try to sign up today."
Ms Bataille said the extension had been offered to help those from different time zones and to deal with any technical problems that might result from a last-minute rush of applicants.
The deadline had already been delayed a week after the initial botched rollout of the website.
Two states have extended the deadline for coverage in the new year even further, to 27 December in Maryland and 31 December in Minnesota.
While the website has been upgraded over the course of the past two months, the site has still experienced downtime in the past few weeks.
The site is part of a larger 2010 healthcare law that seeks to cover millions of uninsured Americans.
While Americans may still enrol in private insurance plans through the website after Tuesday, they will not be guaranteed coverage at the start of the new year.
A more important deadline for the Obama administration is 31 March, when enrolment in the programme ends for the year.
Those who do not have coverage through their employer, government-run health programmes or through the federal or state-run websites by then will have to pay a tax penalty.
Mr Obama said on Friday that more than one million people had enrolled in private insurance through federal and state-run websites since 1 October.
Previously White House estimates called for 3.3 million Americans to enrol by the end of 2013, and about 7 million by the end of March 2014.