Ex-World Jewish Congress head Edgar Bronfman dies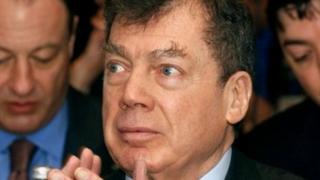 Billionaire businessman and long-time head of the World Jewish Congress Edgar Bronfman has died in New York, aged 84.
The Canadian-born son of east European immigrants, he successfully expanded the family's liquor company Seagram, taking over as president in 1971.
As WJC leader from 1981 to 2007 he was a prominent champion of Jewish causes.
Under his tenure, the US lobbied the Soviet Union to allow Jews to emigrate. Bronfman also helped force Swiss banks return over $1bn to Holocaust victims.
His successor as president of the World Jewish Congress, Ronald Lauder, said in a statement: "Many Jews around the world are better off today because of Edgar's determined, unrelenting fight for justice on their behalf.
"His name will forever be enshrined in the history books."
Bronfman died of natural causes at his home surrounded by relatives on Saturday, according to the family's Samuel Bronfman Foundation.
His father, Samuel Bronfman, founded the distilling company Seagram in 1924 and grew rich in the Prohibition era - when alcohol was smuggled into the US in large quantities.
Under Edgar's leadership, Seagram diversified its operations, acquiring interests in the chemical and oil sectors. The firm was taken over in 2000 by the French media and telecom group Vivendi.
Exposing Waldheim
Bronfman used his wealth and position as head of the WJC to defend the interests of his fellow Jews around the world.
He secured support from the US Congress to increase pressure on the Soviet Union to allow Jews to leave - a key goal of his organisation.
Jewish emigration from the USSR increased under the reforming leadership of Mikhail Gorbachev in the 1980s.
The WJC also led efforts to expose the hidden Nazi past of former UN Secretary General Kurt Waldheim when he ran for the Austrian presidency in 1985.
During the 1980s and 1990s, the organisation spearheaded efforts to win billions of dollars in restitution for relatives of Holocaust victims.
Jews in Germany and Nazi-occupied countries were stripped of their possessions, including gold fillings that were removed from the teeth of death-camp inmates.
Much of the gold ended up in Swiss banks, which came under criticism for failing to make adequate reparations.