Despite hurdles, undocumented immigrant becomes a lawyer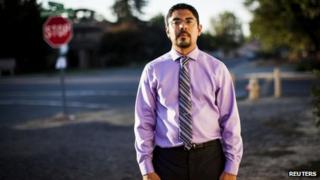 After Sergio Garcia passed the California bar exam to become a lawyer in 2009, he practised law for two weeks before finding out his licence was invalid.
His status as an undocumented immigrant barred him from receiving a professional licence under a 1996 federal law that prohibited undocumented immigrants from receiving public benefits from the state.
On Thursday, after four years of campaigns and court battles, Mr Garcia was admitted to the state bar when the California supreme court ruled in his favour.
The court made the ruling after a measure signed by Governor Jerry Brown, which allows undocumented immigrants to practise law in California, came into effect on 1 January.
Mr Garcia was with his lawyers on the day the decision was handed down.
"The moment when my attorney said, 'Congratulations, colleague,'" he said, "I just broke down and started crying because it has been a very, very long, very difficult journey."
Garcia's journey
Mr Garcia first came to the US from Mexico as an infant. His parents brought him across the border illegally to seek a better life for their family. At nine, Mr Garcia returned to Mexico with his mother and lived there for eight years.
"There were many days I went to school hungry and without any money to buy food because in Mexico there weren't any free lunches," he said.
He crossed the border illegally once again at age 17. His father helped him apply for permanent residence. His application was approved, but he never received his Green Card, he said. He worked at a grocery store and helped his father pick almonds.
"Sometimes I would go to work with him just to remember what I didn't want for the rest of my life. I didn't want to work back-breaking jobs for minimum wage," said Mr Garcia.
His undocumented status posed many difficulties for him. He could not do anything that required official identification, like apply for a driving licence, cash a check or go to the bar with his friends. He could not visit Mexico, not even when his grandfather died.
"Being undocumented in this country is very difficult on the soul," he said. "It consumes you little by little."
After graduating from high school, Mr Garcia says he received offers from the University of California, Berkeley and Stanford University, but could not attend because he did not have documents. He became a paralegal instead, then went to California State University, Chico and Cal Northern School of Law.
He passed the state bar exam on the first try. His family threw a party to celebrate.
Two weeks later, Mr Garcia was told he could not be granted a licence. "I was told… issues with my status had to be addressed," he said. "And that's when this Pandora's box was opened."
Back to work
Four years later and only hours after the supreme court decision was made, Mr Garcia was back in his offices in Chico, California. He had a bottle of champagne waiting at home.
"I've been working all day. No time for celebration right now," he said.
Although he looks forward to returning to court - this time as a civil litigation lawyer and not a petitioner - Mr Garcia also hopes to continue his work as a motivational speaker and activist. He founded the Sergio C Garcia Foundation to help struggling students obtain a university education.
He has also written a book about his journey, which he says will be published sometime in the next year.
Mr Garcia still has one more goal in mind.
"I've dreamt of the day I become a US citizen as well," he said, "Hopefully that's not too far off from here."