Georgia woman is one of two winners in $636m lottery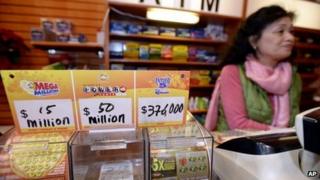 One of the two winners of the second largest lottery jackpot in US history has come forward.
Ira Curry, 56, of Atlanta, Georgia, will claim half of the $636m (£390m) Mega Millions jackpot.
She reportedly picked her digits based on relatives' birthdays and the lucky number seven. After taxes, she is expected to receive $120m.
The other lucky winner, yet to be announced, bought a ticket in San Jose, California, before Tuesday's draw.
'State of disbelief'
Ms Glass reportedly called home after the draw and asked her daughter to check the ticket, whereupon she discovered they had hit it big.
"She said she was just in a state of disbelief," Georgia Lottery chief executive Debbie Alford told the Associated Press news agency.
Ms Alford added that Ms Curry reportedly bought the ticket on Friday evening and it was a last-minute decision.
The California winner has one year to come forward.
The winning numbers were 8, 14, 17, 20, 39 and 7.