US Senator Max Baucus 'nominated as China ambassador'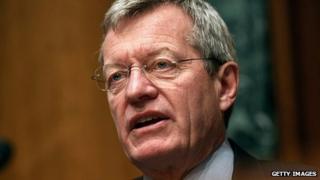 The senator for the US state of Montana, Max Baucus, is expected to be nominated as ambassador to China, officials from President Barack Obama's Democrats say.
Mr Baucus, 72, is currently chairman of the Senate Finance Committee with jurisdiction over taxes and trade.
The nomination is subject to confirmation by the Senate.
Mr Baucus, also a Democrat, was a key figure in helping to pass President Obama's healthcare law four years ago.
He has spent much of this year seeking to build support for a sweeping overhaul of the tax code.
Mr Baucus announced earlier this year that he would not seek re-election.
The expected announcement comes as the US increases its military presence in the Pacific, a move seen as countering China's growing assertiveness in the region.
Washington has recently expressed "deep concern" about China's new air-defence identification zone over disputed islands in the East China Sea.