One shot dead at Reno, Nevada, medical centre rampage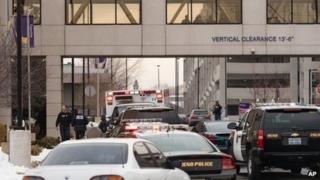 A gunman entered a medical centre in the US state of Nevada and killed one person and injured two before killing himself, police in Reno have said.
Authorities responded to the shooting at 14:05 local time (21:05 GMT), searching the building room-by-room.
The gunman and victims have not been identified, and authorities have not revealed a motive for the shooting.
The shooting took place at the Center for Advanced Medicine at Renown Medical Center in the city of Reno.
The injured victims, including a female doctor, are being treated in hospital, according to the Nevada Department of Public Safety.
Both were initially listed in critical condition, according to media reports.
Deputy Reno Police Chief Tom Robinson said no officers were involved in the shooting.
Waiting room threat
The entire medical complex of Renown, a three-block area near downtown Reno, was put on lockdown.
Dozens of officers, some heavily armed, surrounded the area.
One witness told the Reno Gazette-Journal she was sitting in the waiting room of a urology office when the gunman entered the room.
"This man came through the door into the waiting room with [a gun] at his side," Kandy Hall told the paper, saying he pointed the firearm at her and others in the office and warned them to get out.
"Then he opened the door to go back to where the doctor and the nurses were," she said.
Nevada State Senator Debbie Smith said she was trying to exit a nearby building after an appointment but was blocked from leaving.
"I encountered some Swat team guys, they said nobody was leaving," she said. "A police officer was at the door and said I couldn't go out there."
Operations resumed at the rest of the medical centre two hours after the shooting, but officials were still investigating the building were the shooting took place on Tuesday evening.